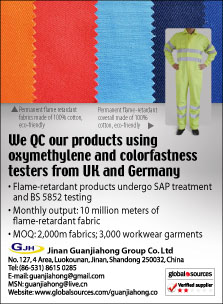 Share:




E-mail

Print

Bookmark
Jinan Guanjiahong Group Co. Ltd

Follow me

2 Star China (mainland)

Credit Check - Supplier Credit Profile

provides impartial credit and vital business metrics for select suppliers on Global Sources Online. Using the Credit Check reports, buyers can easily compare key indicators and more efficiently manage risk. Suppliers with a Credit Check logo have agreed to allow this information to be reported to help buyers streamline the selection and due-diligence processes.

The supplier information below has been obtained from relevant government agencies in the supplier's country and is subjected to change without prior notice. Credit Check and verification procedures were conducted by Sinotrust, a third-party credit agency.
Read Disclaimer


Registered Address:
No. 127 Block 4 Luokou South Village
Tianqiao Dist. Jinan City
Shandong Province China

Incorporation Date:
May 09, 2003
Legal Form:
Limited liability company
Company Status:
Live
Registration Agency:
Jinan Municipal Administration for Industry and Commerce
Registration Number:
370105200004874
Authorized Capital:
RMB 500,000
Paid-Up Capital:
RMB 500,000
Legal Representatives:
WANG Wenjie
Import & Export Licences Obtained:
Yes
Business Scope:
Wholesale and retail: photographic equipments, computers and accessories, hardware, electrical products, machines, electronic products, building materials, knitwear & textiles, garments, plastic products, office supplies, and daily necessities; import and export business. (excluding items without special permission)
Business Permit Expiry:
May 08, 2013
Shareholders:
• ZHANG Aili
• WANG Wenjie




Want a more detailed Credit Report on this supplier?



Authenticated and verified by:
Sinotrust


On April 15, 2010

Contact Details




Jinan Guanjiahong Group Co. Ltd
No. 127, 4 Area of Luokounancun
Tianqiao District
Jinan
Shandong
China 250032
Tel: (86 531) 86150285
Fax: (86 531) 87555280
Mobile: 13335103255


Homepage Address
http://www.globalsources.com/guanjiahong.co


Chat with supplier using:

Key Contact:
Mrs Alice, Zhang
Sales Manager
Sales Department


Supplier and product information updated May 17, 2013.
Verified Business Registration Details
Registered Company: 济南冠佳鸿商贸有限公司
Business Registration Number: 370105200004874
Company Registration Address: 济南市天桥区洛口南村四区127号


* In some jurisdictions, company names and addresses are registered in Chinese only.